The Way to Renaissance
If we want to live life according to what we should be accomplishing here on this Earth, then there's something we must consider. Aesthetics, as defined by Norberto Keppe, is inner equilibrium. Any civilization that would like to penetrate into the created reality has to recognize that art is the foundation of civilization. Art is not a luxury or a by-product of civilization. It is an indispensable underpinning upon which civilization is constructed. Every nation enters the world of culture and civilization through the arts. This base, the principle foundation of science and development, occurs in a country only through art.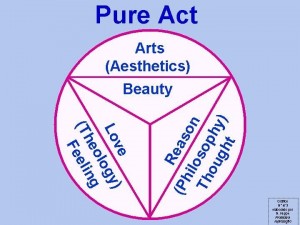 As the diagram shows, Keppe affirms that there are three basic interacting elements of our human essence always working together, i.e. thought (reason) together with feeling (love) and together with aesthetics (beauty). Only when these three elements are interacting harmoniously do they function properly, without distortions. Aesthetics has a fundamentally important role here because it is the unifying factor between thought and feeling. Where there is a complete disregard for aesthetics there is no true reasoning – and without aesthetics there is no love.
Aesthetic development is automatically embraced as a common base by all those sectors of society who wish to leave behind the corruption and insignificance with which they are presently suffocated. We have many historic evidences of this fact and perhaps the clearest was the Italian Renaissance. When the arts began to flourish in 15th century Italy (initially by copying what were then newly found ancient Greek statues from the profoundly artistic Hellenic period), immediately all the other sectors of society also experienced a proportional development. This shows us that art has the unique role of connecting together all the different aspects of society no matter how varied one from the other.
"No one can be good without having love for the arts: the very word ethics is related to aesthetics, for rectitude of character depends upon inner balance, which is aesthetics. It is impossible to know anything without contact with aesthetics.
And if civilization is perishing, it is because it has altogether forgotten its soul, its heart; that is, those who strive for beauty in life."*
*Liberation of the People – The Pathology of Power, Norberto Keppe
---
Autumn Leaves

Over the Rainbow

Somewhere in Time

Oh, Lady Be Good

Santa Lucia

Verdi and Puccini
---
---
The Arts – The Soul of Society
Artes – A Alma da Sociedade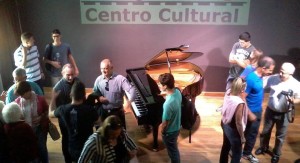 Radio interviews (in Portuguese) with Gilbert Gambucci that are part of an international campaign called The Arts – The Soul of Society.

Entrevistas de rádio (em Português) com Gilbert Gambucci que fazem parte de uma campanha internacional chamada Artes – A Alma da Sociedade.
Radio Interview in Portuguese:
Entrevista com Pianista-Compositor Gilbert Gambucci na Rádio Transmineral que atinge 20 municípios do Sul de Minas Gerais, tocando piano e falando sobre a necessidade de ter um renascimento artístico – mostrando como as artes revela o mundo real da beleza do Criador!
One Minute Radio Announcement (Chamada de Rádio)
Chamada de um minuto para a entrevista de uma hora na Rádio Cultura FM de Amparo, SP, revelando a verdadeira necessidade para as artes, tanto na vida psicológica e social.
Radio Interview (Entrevista de Rádio)
A one hour interview (in Portuguese) with the Classical FM Radio of Amparo, Brazil revealing the necessity of the arts in both psychological and social life.
---
Liberation of the People
The pianist Gilbert Gambucci talks about Norberto Keppe's revolutionary book, Liberation of the People
- The Pathology of Power
TV Interview in Brazil (in Portuguese)
Part of a campaign in the state of Minas Gerais, Brazil of organizing tours of talented local artists in benefit to the region, replacing the severely restrictive procedures of the multi-national corporative control of the arts.
Founding Fathers Analysis (Part 1 of 2)
An in-depth scientific analysis of the principles and objectives of the Founding Fathers of the U.S. as compared to the psychotic economically powerful.
Founding Fathers Analysis (Part 2 of 2)